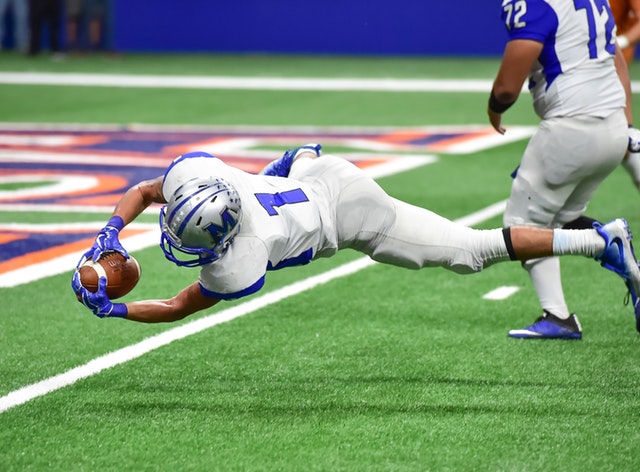 Your face and mouth are some of the most vulnerable places on your body. With an average of 25% of all sports injuries involving the face, the resulting damage and necessary repairs can be a costly process. As such, learning how to protect yourself to avoid injury and what to do if an injury occurs are important to know. Here, we'll outline basic steps you can take. 
How to protect yourself
Equipping yourself with the proper gear before play is the first and most important step to protect yourself from injury. Organized sports such as football or hockey require helmets for play, but including a full cage or a visor can make a difference when out on the field or on the ice.
Additionally, using a proper mouthguard is a crucial part of protecting yourself while playing sports. A custom form-fit mouth guard will be worth the investment for any sport you play, both for protection and comfort. Keeping child athletes equipped with the proper protection is especially important. Childhood sports injuries have been on the rise with the increasing popularity of more contact sports, such as football, hockey, and MMA (mixed martial arts).
What to do if an injury occurs
Occasionally injury can still occur even with proper protection. It is important to know what to do in those situations for your safety. Depending on the extent and type of trauma, some injuries can be taken care of at the sporting event site, with the athlete continuing play. More organized sports often have some type of care on site whether it is a licensed trainer or a coach able to assist the athlete. Having a knowledgeable person on-site knowing how to assess injury is also a way to protect against any further injury.
If a tooth is knocked out during play, it can be placed temporarily in milk or salt water for transport, but should be placed back into the socket as soon as possible. Any other serious injury should be assessed by a medical professional as quickly as possible to prevent any further damage.
Proper protection and knowledge on how to protect against sports related facial injury is important to keep you or even a teammate safe during play. If you have any questions about sports related facial injuries or have previously suffered from a facial injury, contact our oral surgeon in 60544 office today. 
Chicago Dental Implants, Oral & Facial Surgery